About
Coming out of a full year of pandemic-related challenges, MSPs have had to change gears quickly and adapt to a new normal. Many MSPs not only adjusted their operations and practices to meet these challenges, but even saw a fair increase in growth and momentum! During uncertain times, how did they adopt a business-forward attitude to expand and make the situation work in their favor?
This year's MVP Growthfest aims to highlight the energy and drive that All-Stars in the MSP channel generated to power through post-pandemic unpredictability and thrive in the process. It's time to learn how to take advantage of difficult circumstances and turn them into opportunities. Kick off a new season for growing your business at this all-virtual event hosted by ID Agent, a Kaseya company. At this inspiring and exciting event, network and connect with the business and sales experts that overcame the same challenges many MSPs are facing now as they share their hard-earned insights and wisdom.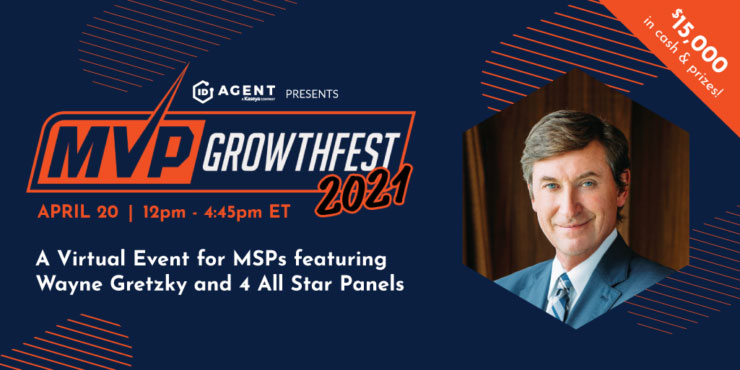 Event Highlights
The Panels
The day will treat MSPs to four valuable panels where a combined 14 MSP powerhouses speak about their processes for improving sales techniques, finding fresh opportunities, and insider tips on how to impress new prospects in 2021. These panels are designed to help you fuel your organization's reinvention and inspire you towards positive and successful transformation through key themes: Growth, Challenges, Differentiation, and Security.
Panel 1 – Growth: Key Things MSPs Need to Focus on for Continued Growth
Pete Peterson – Principal, Taylor Business Group
Joseph Landes – Chief Revenue Officer, Nerdio
Andra Hedden – Chief Marketing Officer, Marketopia
Stephen Spiegel – Founder, CrewHu
Panel 2 – Challenges: Top Challenges MSPs are Facing and How to Overcome Them
Frank DeBenedetto – Founder, AudIT
Ryan Goodman – President, ConnectBooster
Joe Alapat – Founder & CEO, Liongard
Panel 3 – Differentiation: Ways MSPs Can Differentiate Themselves to Open New Doors
Dan Wensley – CEO, Scalepad
Ray Orsini – CEO, OIT
Ted Roller – Channel Chief, Zomentum
Panel 4 – Secure: Best Practices MSPs Need to Survive 2021
Tim Conkle – Founder, T20
Jon Murchison – CEO, Blackpoint Cyber
Conor Madden – Sales Director, TitanHQ
Danny Jenkins – CEO, ThreatLocker
In a once-in-a-lifetime chance to learn about the path to greatness from someone who has walked it, Wayne "The Great One" Gretzky, four-time Stanley Cup winner and NHL Hall of Fame legend, will give his own insights focusing on how perseverance, hard work, and endurance have helped him push past many obstacles and emerge successful both on and off the ice.
Giveaways & Cash Prizes
In addition to connecting with the channel All-Stars, don't miss out on the chance to win $15,000 in cash and prizes eligible only for live attendees! The event will be as fun as it is informative as you'll have several opportunities to win the giveaways spaced evenly throughout the day.
Get More Information
The 2021 MVP Growthfest will kick off at 12:00 EST of April 20, 2021. To save your virtual seats and view the agenda, visit the event registration page.
Event moderators include Sitima Fowler, Partner at Iconic IT, Michelle Ragusa-McBain, VP of Global Channel & Digital Strategy at JS Group, Phillip Walker, CEO of Networks Solutions Provider, and Joy Belinda Beland, Senior Cybersecurity Consultant/Instructor at Edwards Performance Solutions.
Our esteemed panelists include All-Stars from AudIT, Blackpoint Cyber, ConnectBooster, CrewHu, Lionguard, Marketopia, Nerdio, OIT, ScalePad, T20, Taylor Business Group, ThreatLocker, TitanHQ, and Zomentum.