Into the Cyberthreat-verse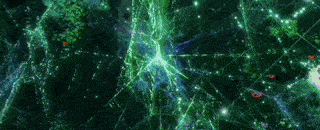 Being a Managed Service Provider is tough work and you have a critical mission: protecting your business from cybersecurity threats so you can protect your customers. However, the fighting grounds are shifting beneath your feet and cybercriminals seem to get faster and more sophisticated with time. It's a rapidly changing landscape of threats and the new target is you.
Threat actors have MSPs in their sights and for a logical reason. Why target a single network or device when they can target many at once? Successfully compromising an MSP would give threat actors access to all the networks that you can. All of a sudden, safeguarding your own network means you can better serve your customers' needs.
Super Empower Your Business
So, how do you get out of those sights? Having the right partner guarding your six allows you to keep your data safe so that you can protect your business, and by extension, your clients. MSPs that take their cybersecurity posture and strategy seriously stand apart from other providers. In this blog post, learn about how partnering with Blackpoint Cyber means sharing our commitment to quality, setting yourself apart from your competitors, and giving your clients the robust security they deserve.
Super empower your business and join us in saying, "What's up, danger?"
Experience Partnership & Leadership
"We all have powers of one kind or another." 
Many security vendors say they want you to be great, but don't support you in the journey after purchase. Being 'great' is two-fold; it's about having the best technologies and tools, but also about having a strong partnership with a provider you can trust to protect you and offer leadership. At Blackpoint Cyber, we believe that showing leadership enables our partners to become leaders for their own customers. We share the same goals you have – what's important to you is important to us. Our company values permeate our processes, our mindset, and our people. Blackpoint stands for:
Continuous Innovation: We implement change and growth when we experience adversity. Blackpoint strives to stay agile in the cyberthreat landscape so that we can offer pragmatic, effective security you can rely on. Trust us to take the lead in fighting stagnation. We'll keep exploring innovations in cybersecurity solutions and bring them straight to you.
Adaptation & Evolution: We like to beat the adversaries at their own game. As threats become more sophisticated, we force ourselves to think ahead and move faster than they do. Feel supported to grow your business with us as we keep evolving into the next best version of our company and products.
Respect & Dedication to Our Customers: Blackpoint never wavers in putting our partners first, the same way you have your customers' needs top of mind. No matter what comes at us in the threat landscape, zero compromise on our values is our legacy and promise. We are proud to serve our partners and deliver true protection from adversaries threatening your livelihood.
Discover Empowerment
"I see this spark in you…whatever you choose to do, you'll be great."
The demand for Managed Service Providers (MSPs) to deliver sophisticated security services is growing. We believe that businesses should never make difficult decisions on how to protect themselves and their clients. With Blackpoint, turn this demand into an opportunity – give your clients what they're looking for. Our partners provide real security with real response.
All this in mind, feel super empowered to uphold the same mission we do: providing robust, effective cybersecurity to the ones we protect. Leveraging our purpose-built, proprietary Managed Detection & Response (MDR) technology and 24/7 expert SOC, our success becomes your success. Blackpoint keeps you sharper than your adversaries and supports you to become a successful leader in your own right.
Grow Your Brand & Business
"You're the best of all of us. You're on your way. Just keep going."
Teaming up with Blackpoint means that you don't go into the unfair cyber fight alone. Feel supported no matter what comes at you – we'll have your back and give you the right tools to win the unfair fight against cybercrime. Our partners leverage our nation state-grade, proprietary Managed Detection & Response (MDR) technology and team of 24/7 SOC experts to set themselves apart from the rest.
Grow Your MSP With Us: Add effective, robust cybersecurity to your portfolio of services and become an ambassador for high cybersecurity standards. Share our values of excellence when it comes to quality, ownership, and ethics.
Leave It to the Experts: Our 24/7 SOC is a team of cybersecurity experts well-versed with hacker tradecraft and real-world cyber defensive and offensive tactics. The best part is that they work for you.
Accelerate Your Efficiency: Through our end-to-end security ecosystem, ensure that all facets of security work together in a streamlined cyber strategy. Our nation-state grade technology does the heavy lifting so you can grow your business to further heights.
Protect Your Customers: Deliver a comprehensive solution that combines state-of-the-art technology, threat detection tactics, and experienced cybersecurity specialists to prevent, detect, and respond to adversaries in the threat landscape.
Rely on True 24/7 Cyber Defense Technology
"Our family doesn't run from things."
In the cyberthreat landscape, MSPs are finding themselves in the crosshairs of advanced attackers. To take the target off your back, we created the Blackpoint Cyber ecosystem – a fully managed, integrated ecosystem of services with our powerful nation state-grade MDR technology at its core. Blackpoint keeps you paces ahead by navigating the threat landscape for you and taking out your adversaries before they can see us coming.
Relying on our streamlined, pragmatic stack means Blackpoint can help you remove roadblocks that limit your ability to focus on your business and supporting your customers. Rest easy knowing that we've got you covered and will detect what other vendors miss.
Real-World Threat Expertise – Founded by former National Security Agency (NSA) cyber operations experts, our team continues to bring nation-state grade technologies and tactics to our partners around the world.
24/7 MDR Protection Technology – Our Managed Detection and Response solution provides 24/7 protection against even the most advanced of modern-day cyberthreats. Sleep easy knowing we guard your business around the clock.
Rapid Detection & Response – Faster than any other solution on the market, our world-class SOC combines network visualization, tradecraft detection, and endpoint security to detect lateral movement in its earliest stages and stop the spread.
True, Action-Focused Approach – Blackpoint detects and detains threats on your behalf immediately. By the time you hear from us, the threat has already been triaged and removed from your environment. Trust us to provide real action, not just notifications.
Win the Unfair Cyber Fight
"That's all it is…a leap of faith."
At the end of the day, you have your mission as a provider to your customers. Ours? We take the target off your back so you can focus on that mission. Blackpoint wants to see you succeed. The way we see it, cybersecurity affects everyone so empowering your business means we all stay ahead of the adversaries looking to exploit your data.
The cyberthreat-verse is always going to be changing. When part of the Blackpoint team, we guide you through the landscape and keep you safe as you accelerate your brand and business. With our support, be the hero, take the leap, and know we'll be there.
Limited Time Promotions

Deploy Your Trial
Until March 31, 2022, sign up for a Blackpoint demo and see the Blackpoint difference. After your demo, deploy a free 10-day trial with Blackpoint and we'll send you a $150 Amazon gift card on us! Don't wait to add true 24/7 MDR technology to your arsenal.

Complete Your Trial
We are excited to announce an exclusive giveaway raffle! Once you complete your free 10-day trial with us, we'll enter you into the raffle for a chance to win our grand prize (to be announced). Eligible parties will receive notice of their entry via email. Act fast – this offer is only valid until April 11, 2022!
To get started, visit our promotion page: https://blackpointcyber.com/lp/super_empower_trial_offer/.